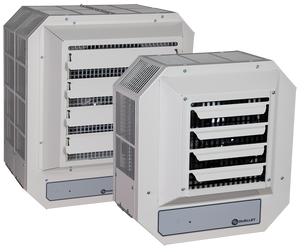 Ouellet OHVU07500-24T5 Heater
Ouellet OHVU07500-24T5 Commercial Portable Unit Heater
Features
Color
• Standard: almond.
Finish
• Standard: epoxy/polyester powder paint.
Voltage
• 208V, 240V, 277V, 347V, 480V, 600V, 1 or 3-phase.
Construction
• Draw-through design for more evenly heated air. 1
• Specially designed outlet diffuser provides maximum air velocity. 2 • Individually adjustable louvers to direct discharge air flow. 3
• High-limit temperature control with automatic reset.
• 18 and 20 gauge steel.
Fan
• Motor - totally enclosed - thermally protected. 4
• Motor mounted in ambient air stream,
shielded from heating elements. 5
• Fan delay purges heater of residual heat for longer life.
Heating element
• Stainless steel sheath with aluminum fins.
• Draw-through design permits greater heat transfer.
12345
Control
• All models have factory installed contactor.
• 240/208V control circuit standard on all models
(with transformer if needed).
• Full line of unit mounted control accessories available
(factory or field installed).
Installation
• Minimum mounting height of 8 ft. (2.4 m.)
• Horizontal or vertical discharge air flow.
• Includes wall and ceiling mounting brackets
(for horizontal discharge air flow).
• For vertical air flow 4 welded nuts (for threaded rod 3/8 in. X 16 UNC)
provided in heater back.
• Large and easily accessible control compartment.
Note: We recommend installing this product on an outside ceiling or wall to avoid vibrations spreading to an adjacent room.
Warranty
• 5-year warranty against defects.
Application
• Factory, warehouse, garage, store, shipping room.
Ouellet product specifications can be found here.